Description
East Side, Mt Ruapehu
Important Notes :  All NZAC huts are now closed to align with the latest Government Coronavirus requirements. You cannot self-isolate at an NZAC hut.
The New Zealand Government requires all people who arrived in the country after 1 am Monday 16 March or if you develop symptoms of COVID-19 like a cough, fever, shortness of breath, sneezing or a runny nose, to go into self-isolation for 14 days. You cannot stay or camp at any NZAC huts or lodges during your 14-day self-isolation period.
All bookings of NZAC huts have also now been halted. If you wish to make future group bookings or make manual payments for anything, including past hut stays, please email Margaret who can help you with this. [/box]
Tukino Lodge
The New Zealand Alpine Club (NZAC) has entered into a partnership agreement with the Tukino Alpine Sports Club (TASC) that will allow NZAC members to book the lodge at member rates. All bookings are done through the TASC, details below.
Tukino lodge bookings
Summary:
This wonderful modern ski lodge located on the Tukino Ski Field is an excellent base for winter mountaineering, ski touring and instruction courses, and a base for alpine rock climbing in the warmer summer months.
Location:
Take the turnoff to Tukino Skifield 22.4kms north of Wairoru (46.4 kms south of Turangi). Follow the gravel road across the desert for 7km to the "Base Camp" car park. From this point the road is suitable for 4WD vehicles. At the 10km point there is a locked gate (key available with hut key). Hut is located 14kms from the Desert road. Chains are essential during winter.
More info here.
Fees:
All NZ Alpine Club members will receive a $5 discount on ski passes (10%) at Tukino.
Some information of note:

-Self-catering is the most practical option outside the winter season. The lodge has ovens, cutlery, fridge etc, so bring your food up in a chilly bin.
-A lodge manager is permanently on-site during the winter season (July-Sept). Outside these times bookings subject to availability of a lodge manager (Note: "Lodge Manager" training weekends are run regularly if you are interested in becoming one).
-The lodge has a minimum booking of 6 people.
-During the summer period (Labour Weekend to Easter inclusive) the lodge is available with the use of a fully equipped kitchen and other facilities upstairs.
-Webcam: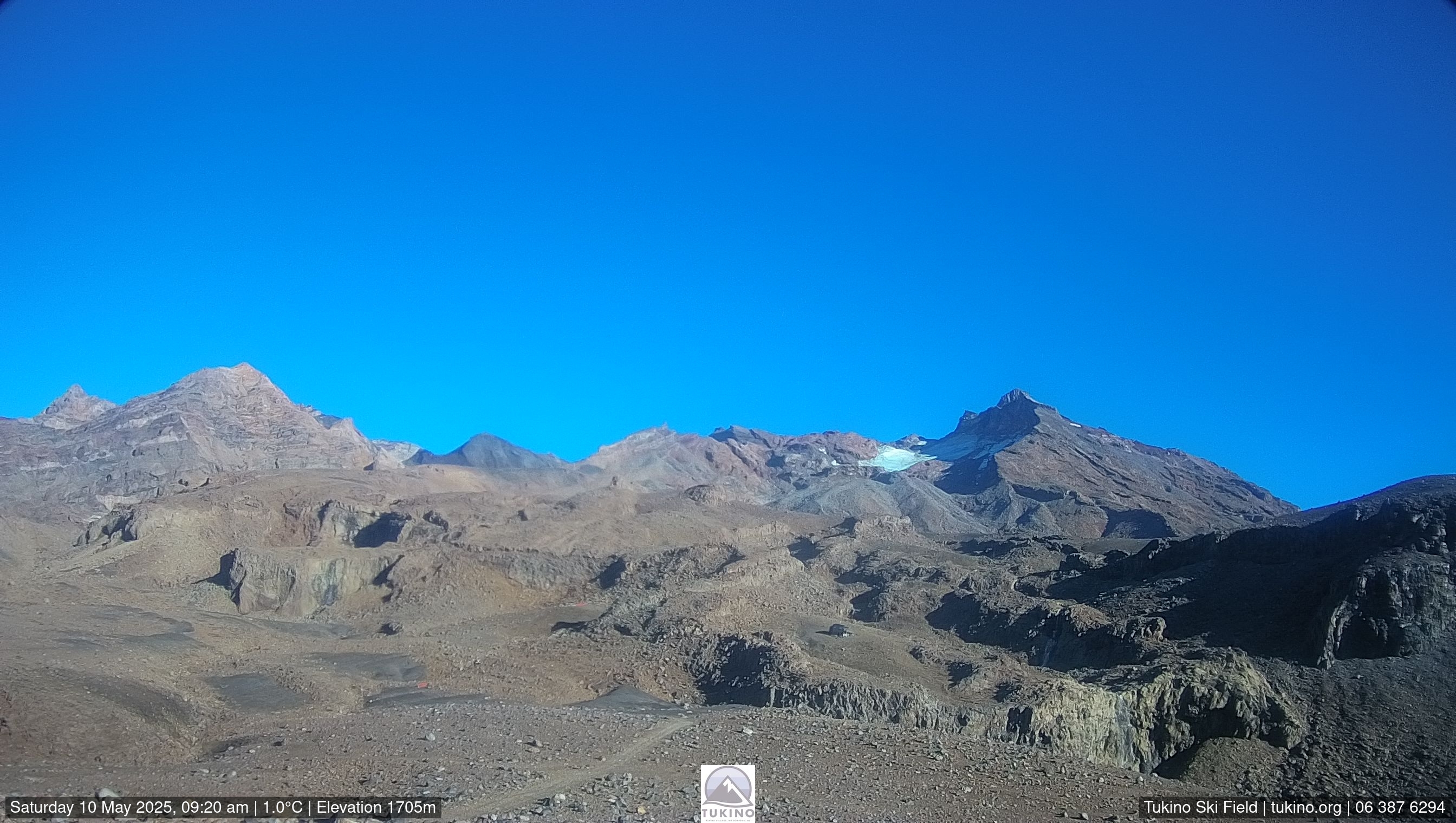 Location Map:
Point Location:
POINT (175.614 -39.278)
NZTopo50: BJ34 255 491
NZMS260 (old): T20 356 108